How to Boost Your Online Sales in 2023? 18 Must-Try Tips!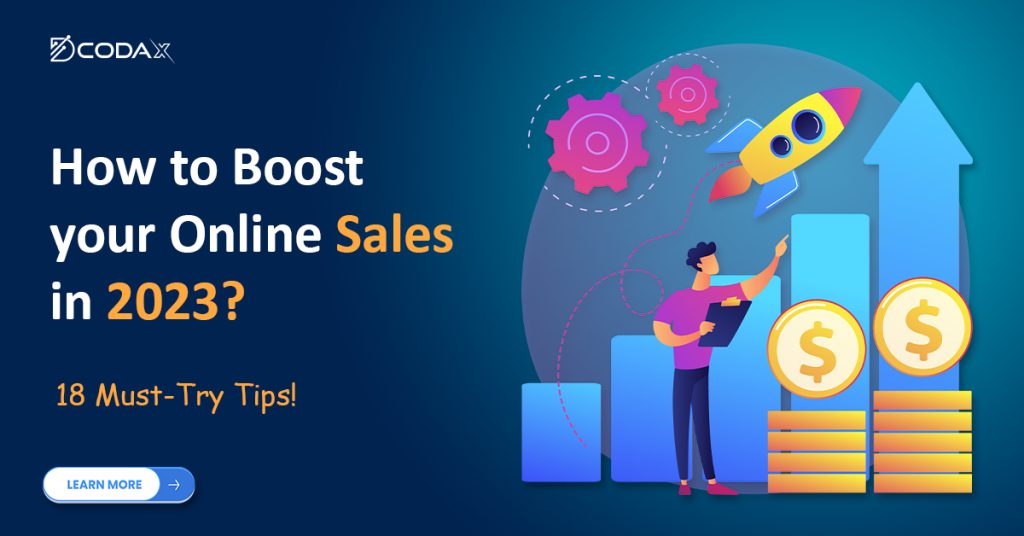 Making your online sales better isn't just a good thought – it's a really important step for helping your company do well. As your website gets bigger online and you learn more about your customers, you can find new and smart ways to turn possible buyers into real customers. This change means your company can earn more money. But if you don't focus on this important part, you might accidentally miss chances to make your business grow bigger.
So, it's a smart idea to actively explore and try different plans to increase how much you sell online. When you do this, you're not only making your company's money situation better, but you're also putting yourself in a good position to take advantage of the changing online world. This brings up an important question: What specific things can you do to increase your online sales and make your business bigger overall?

Facebook


Instagram


Linkedin

Table of Contents
Add a header to begin generating the table of contents
1. Create buyer personas to target your true Audience

Imagine having crystal-clear insights into the minds of your top customers – those who love what you offer. It's not just a marketing trick; it's the power of buyer personas. These are like custom-made profiles of the folks who adore your products or services. And guess what? These buyer personas hold the key to crafting marketing magic that truly resonates.
Creating these personas is a bit like detective work. You gather important info about your users, such as:
⦁ Age range
⦁ Where they live
⦁ What they do for a living
⦁ Are they male or female
Picture this: If your crowd is 25-year-old female college graduates, your marketing game would be totally different from wooing middle-aged working-class gents. It's not just about sales; it's about speaking their language, addressing their desires, and turning them into loyal fans.
2. Offer Discount/Promos/Coupons

Discounts, promos, and coupons are like magnets that attract customers to your products.
But here's the secret sauce: Make those discounts so tempting that they can't resist piling up their cart. The more they buy, the more they save – it's a win-win!

Imagine this: Discounts becoming a regular superstar in your marketing lineup, available to all customers. Whether it's a cool perk like free shipping for specific orders or exclusive rewards for loyal members, these deals will have them racing to checkout.
And wait, there's more! Picture this – Surprise coupons drop into your email subscribers' inboxes from time to time. It's like getting a little gift that sparks the shopping spirit.
3. Share Testimonials/Reviews of Customers

Sure, you can shout from the rooftops that you're the cream of the crop. But what really matters? Your customers' voices!
Imagine this: their genuine words right on your website. It's like a megaphone for your quality, screamed out by your biggest fans.
Here's the secret sauce: After they've made a purchase, nudge your customers to share their experience. Their words will be a shining beacon for potential buyers. Oh, and guess what? We've got a sweet deal for you too – throw in a discount and watch those testimonials flood in!
4. Create email marketing campaigns

Utilizing an email marketing campaign has the potential to boost your sales significantly. In reality, email marketing has been shown to yield 50% more sales compared to alternative lead-generation approaches. If an email marketing strategy isn't part of your business plan yet, this is the ideal moment to consider making an investment.
Within your emails, you can incorporate:
⦁ Informative newsletters
⦁ Up-to-date company news
⦁ Special promotions and valuable coupons
By implementing automated features into your email strategy, not only will you streamline your efforts but also maintain customer engagement with your brand.
5. Address abandoned carts

One great way to sell more things online is by sending reminders to people who left their shopping carts without buying anything.
When people shop on the internet, they often put things in their cart but don't actually buy them. They might get distracted or not be ready to buy just yet, so they leave your website.
You might think these sales are lost forever, but you can get them back! Reminding people about the things they left in their carts can help them remember and think about buying those things. This can make them change their mind and decide to buy after all.
6. Using Social Media Promotions

Using social media is a good way to get people to visit your website and make them want to shop. You can show them special deals, offers, and new things directly on their social media. You can also use ads on social media to show your products to the people you want to reach.
Also, some websites (like Instagram) now allow people to shop without leaving the app. This makes it easier for you to sell things in different ways and get more sales.
7. Make Hassle-free Returns

Even though you might think returns are negative, they can actually improve your company's image and boost sales.
Certain individuals might avoid buying things if returning them seems difficult. This means they don't buy anything at all. When returns are simple, customers feel satisfied because they know they won't face problems if they need to return something that doesn't suit them.
On your website, clearly explain your return and exchange policy using easy words: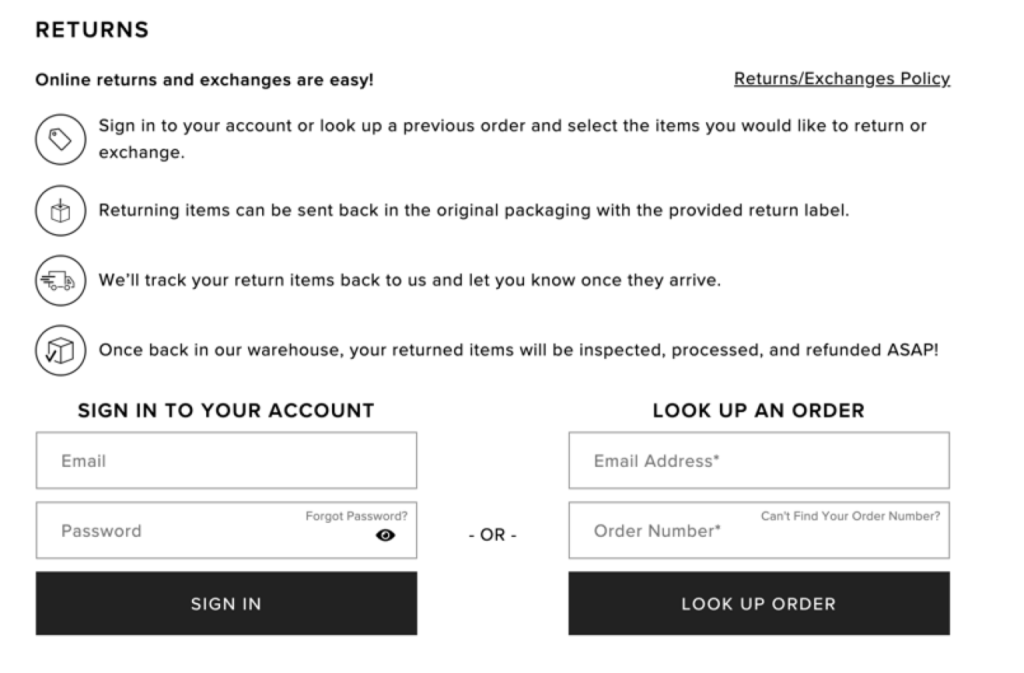 The simpler you make it for customers, the higher the chances they'll buy from you.
8. Use Top Quality Product Photos/Videos

This advice might sound simple, but it's really effective: including great pictures of your product in your online store can really help you sell more.
When people shop on the internet, they can't touch or see the product in real life. So, they rely on the pictures you show them to decide if they want to buy it.
Put up clear pictures of your product from different sides and show its important details. This helps customers understand what they're getting and makes them more likely to buy.
9. Take a user-focused to naming benefits

The things a product can do and the good things it brings are not the same. Even though you should definitely list what a product can do (its features), there are also other great things about it (benefits).
To think about benefits, imagine you're the person buying the product. Ask yourself, "How does this make my life easier or better?"
For instance, let's say you sell special machine parts. The features might be:
⦁ The types of materials you provide
⦁ The range of sizes you offer
⦁ How quickly you can make them
The benefits, on the other hand, could be:
⦁ People can save time because they can send you all their designs instead of searching for many companies.
⦁ You're fast at making the parts, so they can get what they need quickly.
⦁ Your testing step saves them money and time because it stops mistakes and changes from happening.
10. Use PPC ads

PPC ads are like a traffic boost for your website, and they also help you spend less on ads. Usually, businesses earn $2 for each $1 they spend on PPC, which leads to a big rise in sales.
When you put money into PPC on search engines and online shopping websites, you can aim your ads at people who are searching for what you offer. Instead of just showing ads to anyone, you can focus on the right audience. This way, you can connect better with customers who are more likely to buy from you.
11. Limit choices/options

Even if you have a lot of different things to offer, having too many choices can actually be a problem. When there are too many options, people can struggle to decide and might end up not buying anything. Having fewer choices means they'll be less unsure, which can result in more sales!
To make things simpler for customers, consider reducing the number of options you show. You can also organize your products in a way that groups similar items together. This removes duplicates and helps customers think more clearly when they're deciding what to buy.
12. Simple the checkout process

If you notice that many people are leaving their shopping carts or not finishing the order forms, it might be time to make changes to how your checkout works. A complicated or lengthy checkout process can make customers more likely to give up and not complete their purchase.
Take a close look at your checkout process to find out what might be causing customers to stop. Some common issues include:
1. Checkout forms that are too long and ask for too much information
2. Not offering enough choices for payment
3. Not clearly showing the cost of shipping from the beginning
4. Making customers fill out separate forms for billing and shipping addresses
These problems can make customers give up on their purchases.
To stop people from leaving their carts, simplify the checkout process. Make shipping costs clear from the start and try to have as few steps as possible. By fixing these problems, you can make the checkout process easier and boost your sales.
13. Offer multiple payment choices

Offering a variety of ways to pay makes it more convenient for everyone to use your website.
People come from different financial situations and have different ways of paying. For instance, someone shopping on their phone might like using Apple Pay because they don't have their credit card with them.
Having different payment choices helps stop people from leaving their carts without buying anything.
14. Use chatbots for instant live chat responses

Chatbots are like computer programs that use smart technology to talk to your customers. They help you make your customer service quicker by answering questions automatically. You can use chatbots on your website or places like Facebook.
These chatbots are good at handling common questions from your customers. For example, they can help with things like shipping info or giving out discount codes. By using chatbots, your customers get the answers they need faster, which can make them more likely to buy from you.
15. Design rewards for motivation

Incentives are like rewards that motivate people to buy things from your company.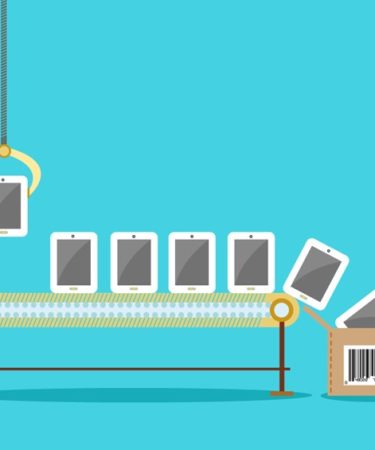 Service médical à domicile de Medici Generici à Rome
Notre équipe fournit un service de soins de santé à domicile, garantissant professionnalisme et confort pour les patients à Rome.
It's like the Old Navy Super Cash idea, where the more you spend, the more "cash" you earn. This encourages people to buy more so they can get the reward.
You could think about giving free shipping if they spend a certain amount, offering discount codes for their next purchase, or giving them another special benefit when they buy from you. These incentives can make people more excited to make a purchase.
16. Allow email opt-in for discounts

Giving people a discount when they sign up for your emails is a smart way to grow your email list.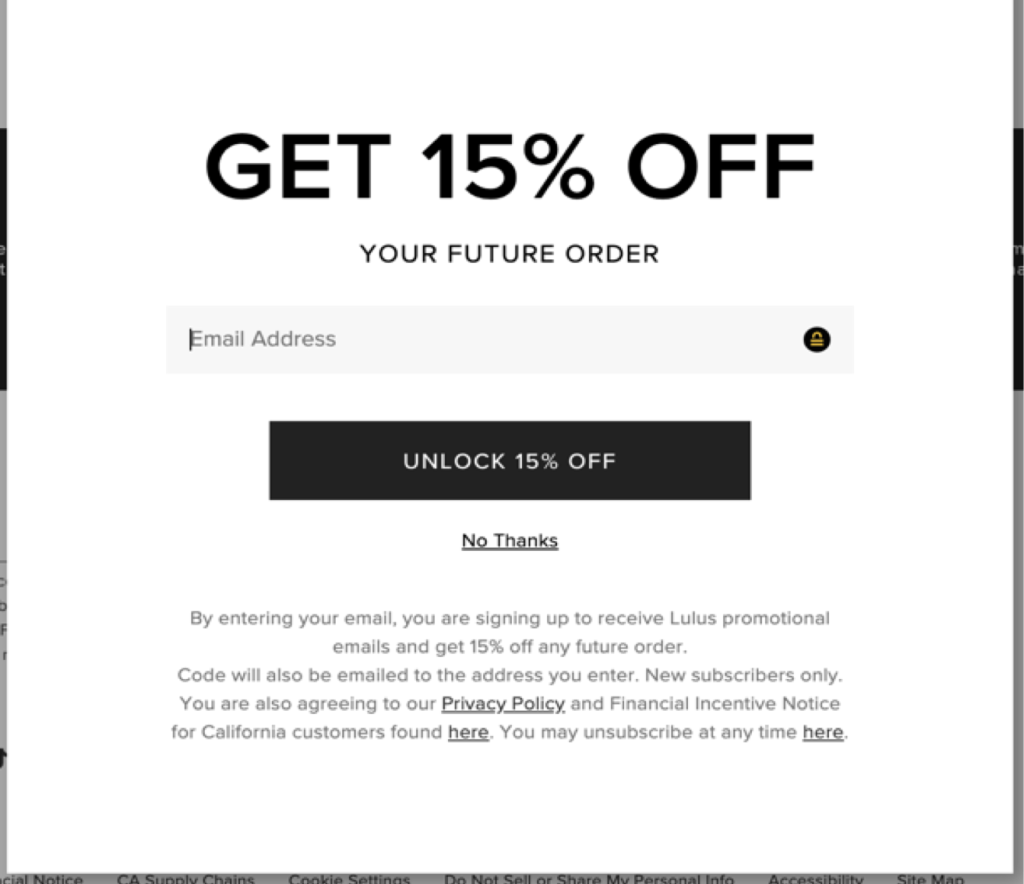 A usual bonus for signing up is a percentage off their first purchase or a special code for a specific product.
17. Create a responsive website

Making sure your website works well on mobile devices is a top way to boost online sales. People use their phones to shop, so if your site doesn't work well on mobile, you might lose potential customers. Since more than 40% of online transactions happen on mobile phones, you definitely don't want to miss out on those sales.
To increase your online sales, focus on making your website mobile-friendly. The best way to do this is by using something called "responsive design." This kind of design makes your website adjust and look good no matter what device someone is using.
When you use responsive design, either by doing it yourself or getting help from responsive web design services, your website will work well on any device. This means your customers will have a great experience, which can make them more likely to buy from your business.
18. Make your Website Loading time Quick

If your website takes a long time to load, people will notice, and your sales might go down. In fact, every year, around $2.6 billion in sales are lost because of slow-loading websites. To make your website faster, you can invest in the following:
1. Making your images smaller and better for the web
2. Choosing a good website host
3. Reducing how often your website sends people to different pages
4. Making sure your website loads quickly and testing it
Focusing on and checking your website's speed will make sure you don't miss out on any sales.
Final Thoughts

In the rapidly evolving landscape of online sales, adaptation is the key to success. Implementing these 18 tips will not only help boost your online sales in 2023 but also position your business for growth in the years to come. Remember, the online marketplace is driven by customer preferences and behaviors, so staying attuned to these trends and being willing to experiment will set you apart from the competition. Here's to a successful year of increased online sales and customer satisfaction!
About us

If you're looking to get the most sales using the tips mentioned earlier, teaming up with a digital marketing agency could be a great idea. Fortunately, Dcodax has helped 67 clients boost their sales through their websites.
Over our time, we've generated 3,232,684 potential customers and brought in $3,021,182 in earnings for our clients. We've got more than 1020 reviews that showcase our success in the words of our clients. Our digital marketing services cover the steps we talked about and more, all aimed at helping you turn more visitors into buyers.
Curious to know more? You can ask for a free quote now and discover how we'll work to increase your online sales!
With Dcodax by your side, the sky's the limit!
For Any Type of Free Consultancy, Dcodax is Always Available for your Help.
For more; Contact Us Now