GOOGLE ADS, SOCIAL MEDIA ADS, SOCIAL MEDIA MANAGEMENT
Over 8,000 website clicks 604 post likes
Super Lawn Trucks – Exciting results from a not so exciting industry.
How do you use Facebook Advertising to sell something as boring and niche as Lawn Contractor Trucks?
As you're about to see, we created and promoted a single piece of content that generated:
That's the subject of this client case study and it starts with a question we get asked often…
…and by often we mean everyday.
What Can You Do on
Facebook to Grow My Business?
The secret to a great Facebook campaign (don't tell anyone) is composed of two parts:
 Relevant AND great looking content
 Laser targeted advertising
When you can successfully do those two things, ANY business, in any niche, can be wildly successful on Facebook.
And today you're going to see the strategy we used to get some pretty amazing results for Super Lawn Trucks (step-by-step).
Lets start with Step #1:
Step #1: Find Potential Customers on Facebook That Have a
Need For Lawn Trucks…Super Lawn Trucks.
When we begin a Facebook campaign we first attempt to understand the buyer persona.
Who would possibly have a need for a lawn truck?
Landscapers it is!
Could we find enough landscapers on Facebook to have a chance at converting?
Surely, you can't get that targeted, right?
Apparently with 1.4 billion daily users, even landscapers can be found on Facebook.

A whopping 860,000 landscapers to be exact!
Perfect, this audience will come in handy when we start advertising for web traffic and leads– the fun stuff. (More on that later)
Keep reading.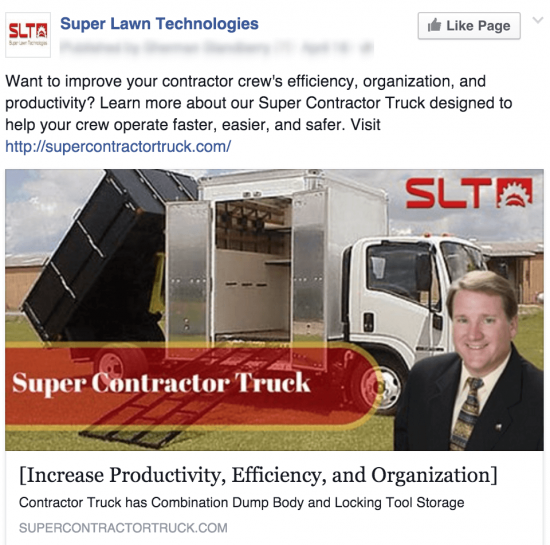 Here's an example of the type of content we used for Super Lawn Trucks:
And that post directly led to…
…a boatload of likes, shares and comments:
Lets start with Step #2:
Create The Type Of Content That Gets
Landscapers Excited.
For those who need a refresher…
…secret #1 to a great Facebook page is relevant AND great looking content.
You see, most businesses fail at social media marketing for many reasons; here are two biggies:
They post content that is relevant but not designed well enough to grab attention
Or
 They post content that is well designed but not relevant enough for their audience to care.
Both issues deal with being able to stop your target customer while they are scrolling on Facebook.
How do we combat that problem?
..A boatload of likes, shares and comments
..And certainly the attention and interest of landscapers
Now, you might be thinking to yourself:
"How in the world did a post like this work so well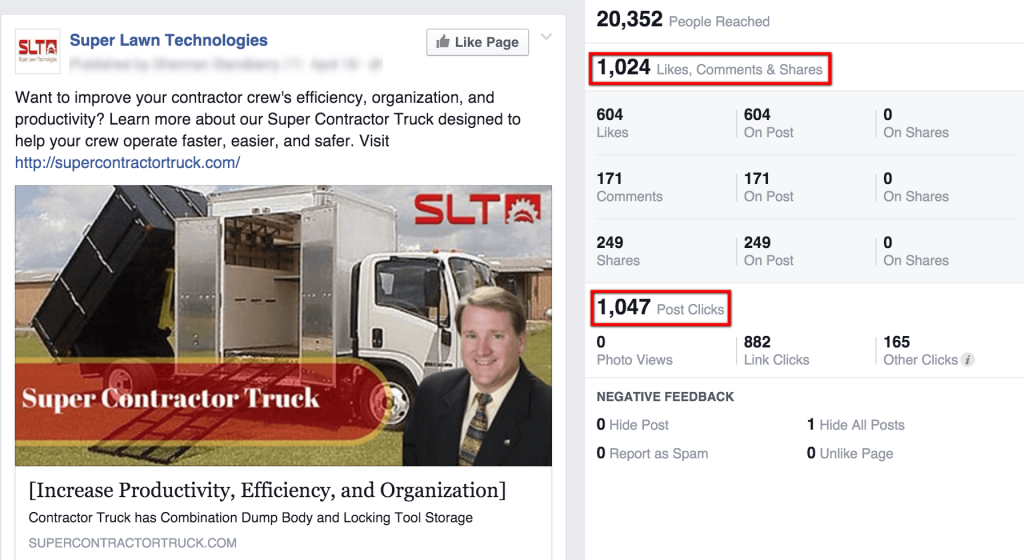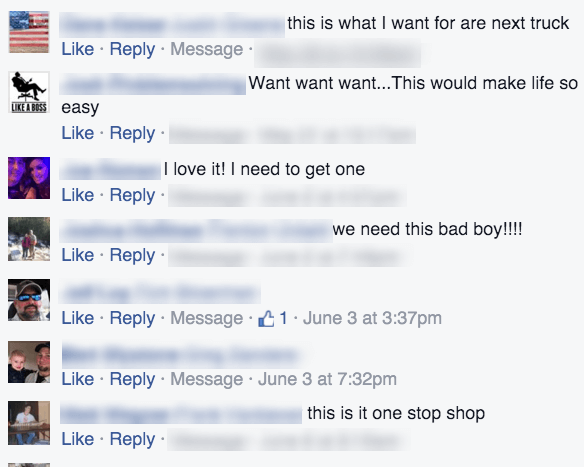 Truthfully, this post incorporated some key elements that we love and always include:
Copy that touches on the pain points of the target audience and a single call to action. In this case, efficiency, organization, and productivity.
 An image that includes something relevant and familiar. In this case, a lawn truck.
An amazing team here at LYFE Marketing – special kudos to Cherrelle.
How did we get even better results with this same exact post?
Keep reading.
Step #3:
Advertise The Heck Out Of
What's Working
Once we understood the type of post that worked best on the landscape audience, it was time to advertise that post to an even large audience of landscapers.
We used a combination of interest and job titles to only target this post to the decision makers –the people who can actually give the green light on investing in a new lawn truck.

Remember the 860,000 landscapers that are on Facebook:
Now It's Your Turn
Contact us to get started with a Facebook campaign of your own
Which has led to the following results:

Not bad for a single Facebook post, eh?
Between October 1, 2015 – August 31, 2016
we generated:
Taliah was able to reach and engage her exact target audience for less than $1.Actually, less than .20 cents on average. (Cost per fan + cost per engagement + cost per view)
Which is ridiculously good.
Here's a screenshot from their ads manager showing 0.16 per fan.

Here's a look at the $.01 cost per view.

(The cost per view is a lot more effective and cost efficient than traditional TV network advertising).
Here's a look at the $.004 engagement cost.

Here are some of the
posts with engagement:
What They Said About Us
Here is a review that their brand manager left for us:
Conclusion
Taliah Waajid's products are so uniquely crafted that you can surely find people who will be interested in them. However, engaging these prospects and establishing a solid base of followers is a different story. It takes a carefully planned social media management plan to be able to achieve this. So what our social media team did was to target these prospects, build a connection with them, and create engaging content to keep them coming back for more. And what were the results? Well, we were able to engage over 260 thousand users at only $0.004 per engagement!
Shop with us today and experience the difference! Explore our wide range of products, enjoy our exceptional service, and take advantage of our competitive prices. Start your journey towards convenience, quality, and customer satisfaction. Place your order now and let us exceed your expectations!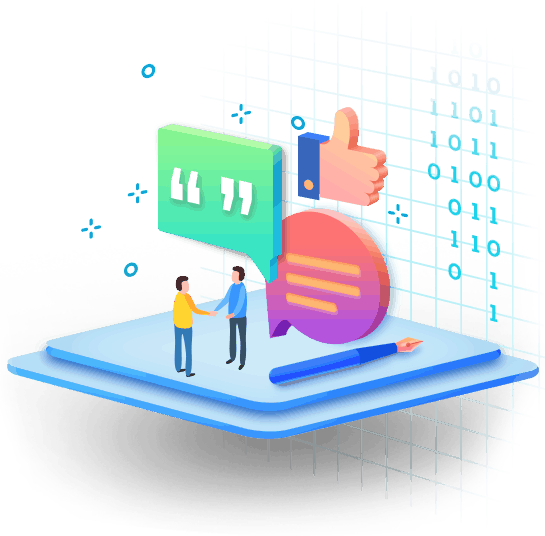 we always take care of our clients and they are very happy, we have added few stories for you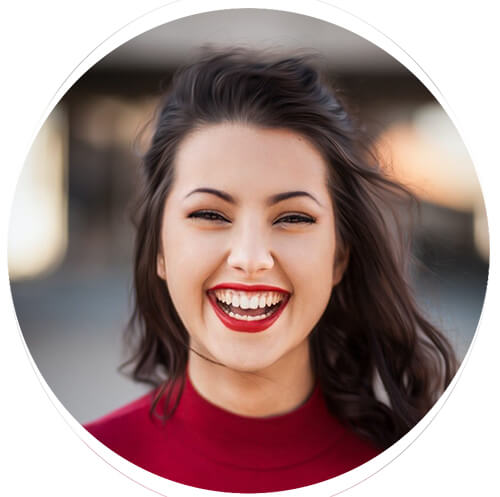 i really thank Dcodax for providing amazing support for the project. both the android Tv app anbd mobile work fine and it helped our clients, highly recommended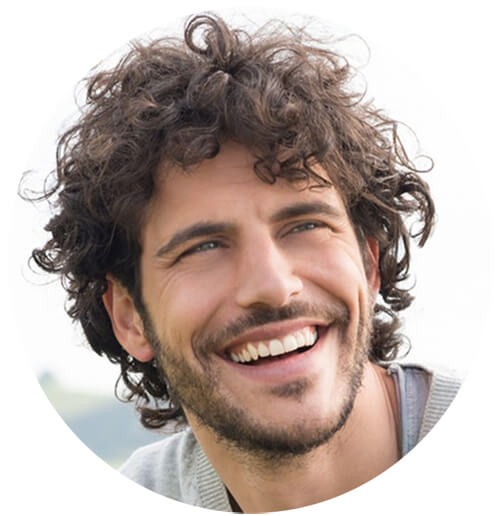 Dcodaxwas really patient and humble. Very easy to work with and explains that you need to know and actually explain you. thank you again and I will be ordering in future.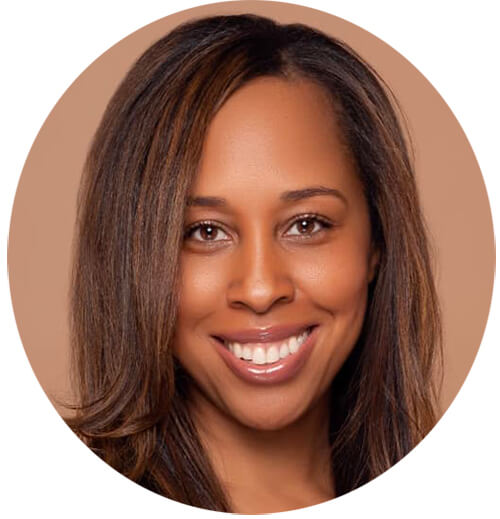 We had a great experience working with this seller. He was attentive to the needs of our Team as we had undertaken a pretty huge project.
Why Clients Choose DCodax For Android Development: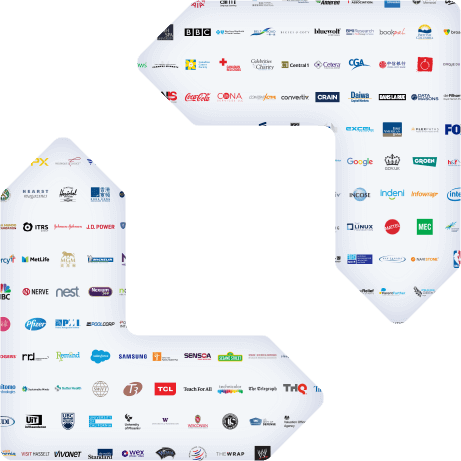 Here are just some of the ways that we stand out as a company when it comes to what our experience is with Magento and creating ecommerce experiences.